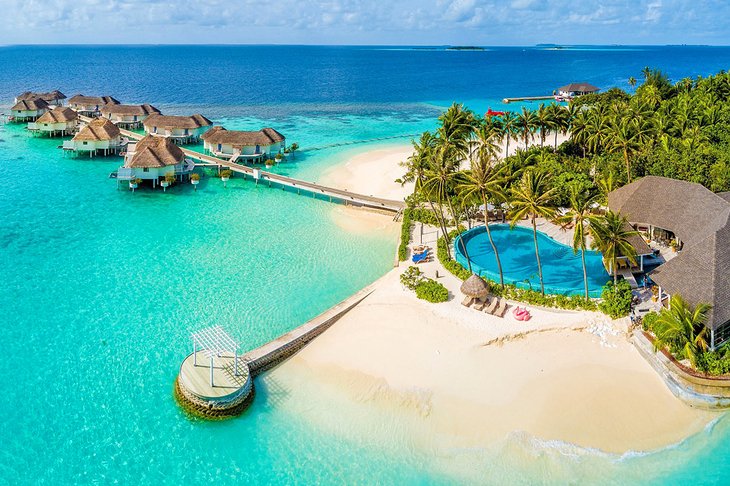 The most romantic and priciest honeymoon destination in the world is the Maldives, a tourist haven of 1,192 coral islands known for its opulent resorts. The sea is transparent at times during the day and changes to pale yellow, purple, and red as dusk falls. Fish can be seen swimming at the bottom in the pure, blue water. Many travellers throughout the world have the Maldives on their bucket lists. Get the greatest travel advice in the most recent Maldives travel guide, and make sure you have a convenient trip to fully appreciate everything this island nation has to offer. Then, when is the ideal time to visit the resorts in Maldives, how do I get there, what should I do there, etc.?
Every travel enthusiast should put the Maldives at the top of their list of dream vacation spots. You may be sure that you will have the fun of your life if you travel to this amazing location. You would be spending the majority of your time on these amazingly beautiful islands, so in addition to summer clothing, flip-flops, and bikinis, we've included a few necessities you should pack.
If you are just beginning to plan your vacation to the Maldives, be sure to check out our Ultimate Maldives Guide, which includes travel advice, things to do, and the finest lodging alternatives.
WHAT TO PACK
Sunscreen:
You would be exposed to the sun's rays while on the island because the Maldives is a tropical location. While lounging on a sunbed or engaging in an exciting water sport, a high-quality sunscreen would be really useful. When travelling to such sunny locations, it is always preffered to bring these water-resistant moisturiser sunscreen.
Sun Hat:
Bring a sun hat with adequate coverage to shield yourself from the damaging UV rays. Avoid making the mistake of purchasing it from the local shops in the Maldives, where you would find it to be highly expensive and even less effective at protecting you from the sun. The Coolibar's Floppy Sun Hat has adjustable strings, is very cosy, is portable, and also has a fashionable appearance. It could be simply crushed and placed into your carry-on bag.
Clothes:
You really don't need to overpack for this location, I assure you.
Summer clothing that is airy and light is the topic here. Everyone is too relaxed to care about your appearance, and nobody is here for your style. A few fine pieces of clothing should be packed in case you decide to dress up in the evenings, but you might discover that you're the only one who wants to. Almost everything, with the exception of your resorts in Maldives, is outside, so wearing heavy clothing won't work here if you choose to be extremely trendy.
Toiletries:
Bring the usual items. Remember to bring extra sunscreen, though, as there are many water-based activities here and you'll need to reapply more frequently.
Remember to bring your underwater camera while packing. In case you drop the camera, consider grabbing one of these floaters as well.
Everything else:
As always, pack. You shouldn't worry if you forget any necessities because these islands are accustomed to receiving visitors and have shops on them.
Though some resorts in Maldives have their own on-island doctors, don't forget your medication (if you take any).
HOW TO REACH
Arranging a flight from, instance, London to Paris to the Maldives is similar to booking a flight from any other country and is pretty simple.
The part that requires planning and organisation is travelling to the islands.
GOING BETWEEN ISLANDS
A fantastic strategy to pack as many fresh experiences into your time in the Maldives is to reserve stays at many locations (even the snorkelling will be different). Moving around allows you to recapture the thrill of discovering a new place in the Maldives because each island is distinctive. I cannot stress this more. (Plus, you get to feel superior when others are returning home while you are simply changing flights to your next gorgeous Maldivian island.)
Depending on the island you're on, you typically have one (or two) of three alternatives for transportation to and from the islands. You may either:
(1) Depart via boat
2.) Fly a seaplane (the most expensive option and by far the most scenic). Please keep in mind that seaplane flights are weather-dependent while planning your return.
3.) Fly into a nearby airport, then take a boat to your destination.
To arrange your transfer in advance, get in touch with wherever you're staying. Don't wait until the last minute to do this. Inform the islands of your destination and departure if you are travelling between them. Since the flights are scheduled, you won't have much influence over the time if you're travelling between islands, but the islands will communicate with one another to synchronise your departures and arrivals. All you have to do is inform them where you're heading and then you can go back to sipping your beachside cocktails. The widespread view is that you should try to experience the seaplane at least once, if at all possible. This is a special way to visit the resorts in Maldives and the ride is pretty gorgeous.
WHAT TO EAT
Our experience indicates that you shouldn't worry too much about the meals in the Maldives. There is a wide range of food available everywhere, so ask ahead of time if you have any special dietary needs, but it will be difficult to find a location that can't accommodate you.
By following our packing list for the necessities, we are confident you will have a fantastic experience in the resorts in Maldives, a stunning paradise. You can use this packing list for any of your tropical holidays.